SoMo - Play ft. Maty Noyes

---
---
This user is a fan of Josh.
Long live the misunderstood anti-hero!
---
Hey, people. Member of this wiki since September 2015. Hope you guys have just as much fun as I have here.
My character standings (featuring their status in my first playthrough)
Love:
Josh - Probably pretty straightforward, this dude has a shit fate. While being one of the antagonists of the game, you have 2 playable segments of him just literally walking around (potentially picking up a totem), which result in him becoming a wendigo or died. Either death or fate worse than death. At this point, I can only sympathize him as much as I could.
Like:
Chris - Of course, a dorky nerd we have right here, equipping with some sharp shooting skill and perhaps a mind of an iron wall as well. I can already see him being a popular tech guy, who would probably like to be funny around people, and I guess that alone imbued his charm to others.
Sam - A very smart and determined girl. She is a pacifist, so hey, that's a plus. She definitely likes to help people, even if she tend to go off on herself and her ways to do so. I could definitely see Sam being a good friend of mine.
Neutral:
Jess - More or less a prom queen, she hides her own insecurities behind her bimbo figure. When she's vulnerable, she's pretty soft inside. I guess cinnamon rolls like that are always a charm.
Matt - In all honesty, Matt is a very good friend. He might look like brawn over brain, but he wants to see people being good and happy as well. If given enough friendship, he can be a really good pal.
Emily - An independent woman. Being her enemies would be rough as hell, but to me, I'm either her friend or I don't know her at all. While being high maintenance, she's quick and nimble in her problem solving, especially in her survival, and that alone is very great.
Neutral opposition:
Mike - He's quite a dominant one, actually. Mike came off as a big dude in a community, and his animus is also nothing to scoff over as well. He is rough, he might be rash, but he can be valiant.
Ashley - She's one with the books, and she can be kind. Careful if you have some malice intent with her, though. She's capable of playing some real dirty tricks while keeping her hands clean.

On a side note, Stranger and Beth deserve honorable mention lol.
Awesome people on this wiki

Charlie - The most formal, calm and kind person I've ever seen. Definitely the role model for a bureaucrat, or even a leader in general. Keep up that great personality, pal.
Kunai - The heroine who served justice well. You seem to be a really successful queen, though.
Ian - Having a good ol' big guy as my friend is so dope to me. Even when he's retired, it was a really great time having him around then.
Solar - Great bureau sir, 10/10 lol
The meat tree owe some egg - An inactive mod. Then, he was a really great guy around as well. Hope you have a good time out there, my friend.
Gich - My average technician and friend. I believe we have gone through some sticks and stones together on chat, and it was always a pleasure to get through them together.
Annie - My soulmate and my reason to like Jess more than ever. Also, she's a hip-hop dancer, so she's basically my idol now.
Astrum - Eh, some stuff, and I don't really care all the "drama" anyways. You're still cool when you're lady astrum, though.
Cody - Forever my bro and buddy, remember that. It's kinda fun to think that everything works wonders for us when we co-op with each other about probably anything.
Karim - Quality drag queen who would fuck my roommate :p Awesome Emily lover. Shout out to the member with the most UD wiki edits.
Alice - One of my old friend, I guess. She's very considerate and is usually your daily dose of happiness, especially when you have a shit day.
Sheda - Then, I envy her and feel like she's a bit ruthless. Now, I was horribly wrong - she's a really fun girl to be around. Who knows, she could be just about the closest person you can think of as Sam.
Arvise - A very funny and a cool guy just like Chris indeed. Even when I don't really like Ashley, it didn't stop me from being friend with him (or anyone, really).
Wubbzy - The dynamic punch of this wiki, but that's just how he rolls.
Jerome - Who I have in touch in chat for quite some time since Mariokart024 era, literally just the two of us. Definitely has the initiative and tenacity to perform and comeup with a huge project whenever he likes.
Merciless - Perhaps an occasional friend, but all in all, I have a really good impression of him. His character standings in most Wikis intrigued me, though.
Ellie - Overly dedicated, that's for sure. A very enthusiastic editor, actually. She can be serious and devoted when she needed to. But hey, she's also the queen of the neutral ground.
Liam - Sexy drunkard. Teddy bear material. Can be sexually abused. Guaranteed turn you on every time. That is all.
Infinity - A person who I met in a different "reign of activeness" on this wiki. But hey, the more the merrier. She'll keep a positive side to everything (except when she's trying to get on chat, in which she deserves to complain lol, Poor her).
Lil - Heck yes my old friend has returned. Through sticks and stones before, she's here to have some fun.
Storm - My enemy/murderer, my superior, my ex-best friend, my companion, and my foster brother (gee that's a lot of AU I wonder why lol). I'll stick with foster brother cause bro ily that much.
Staff

Administrators


Charlie

Daunte

Karim

Content Moderators


Cody

Jerome

Discussion Moderators


Aicile

Annie

Gich

Former Staff


Anastasia

Dimitri

Ellie

Ian

Kunai

Sheda

Other Users

3fingermike · InfinityWikiaCreator12 · MrWubbzy · Queen Bela · Skyla642 · Stormschg · TGLT FrenZy · TheUnhelpful
My corner of favorites
Maybe try Ctrl + F to see if we have something in common? ;)
Music

Neon Hitch, Zara Larsson, SoMo, Within Temptation, Avril Lavigne, Vocaloid of any kind, Bump of Chicken, Akon, Owl City, Sky Sailing, Pentatonix, Backstreet Boys, Bangtan Boys, EXO, Drake, Taylor Swift, Ed Sheeran, Demi Lovato, Pia Mia, Pegboard Nerds, Breaking Benjamins, 2NE1, 30 Seconds to Mars, Avicii, Kygo, Kesha, Theory of a Dead Man, Karmin, Ellie Goulding, Brett Eldredge, Sia, Mike Posner, Dustin Lynch, Redfoo, Melanie Martinez, Halsey, Granger Smith, Lily Allen, Walk off the Earth, Luke Bryan, Omarion, Black Veil Brides, Justin Bieber, Lea Michele, Lorde, Chris Brown, Jason DeRulo, Future, Clean Bandit, Katy Perry, Fetty Wap, Shakira, Troye Sivan, Stromae, Simple Plan, Tobu, Tristam, The Chainsmokers, The Script, The Weeknd, The Wanted, The Vamps, The Mowgli's, Thomas Rhett, Calvin Harris, Zaz, Zedd, Zendaya, NewS, Charli XCX, Christina Grimmie, Madilyn Bailey, Mâitre Gims, Major Lazer, Daya, P!nk, Sam Tsui, Andy Grammer, Mr. Probz, Shawn Mendes, Amir, Carrie Underwood, Cassadee Pope, Lindsey Stirling, Florida Georgia Line, Imagine Dragons, Fifth Harmony, Kevin MacLeod, Nightwish, Amarante, Todrick Hall,
Old random stuff I made before and should be forgotten
You really want to do this?
---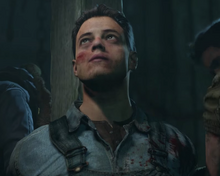 This guy is mentally and physically hefted after the story (until he is a Wendigo). I would say mostly because of Mike (he performs the prank that eventually killed Josh's sisters, which makes Josh lose his f**king mind, then later on physically abuse Josh because he simply thought Josh has the inhuman strength to attack Jess - heck, if Mike thinks so, why won't he back away? Josh would easily overpower him then!) but I don't blame Mike cause it's all unintentionally (Goddammit Mike I need to punch you in the face). Regardless, his sisters are dead, he is then mentally ill, and he has the worst hallucinations, then he can get all the hit and torture by Mike and potentially Chris with that wooden stick, Sam with the bat, and Ashley with the scissors (Oh lord not the scissors). For all of that, I feel deeply sympathetic for him.
And to think of it, Josh is actually a healer, a tender-brute, and a friendly guy, given that he is not traumatized. Believe it or not, he is the main catalyst for Chris to make a huge move towards Ashley (or away from her =))), since he's only mainly pranking them! Remember from the second chapter, Josh told Sam that the two should be put under traumatic experience in order for Chris to make a move on Ashley - the exact same thing that Josh is trying to do. Sam could be a different thing - Josh did get a bit of her intimacy and all, reasons I have yet to come up. What about Mike? Mike constantly causing events that can trigger Josh's demise and his sisters' demise, yet he considers Mike to be a bro. And while you may think that he is going to prank others, he seems to be chasing them away instead, just to give Chris and Ashley the isolated environment. Welp, he lost his sisters, he can be so antagonizing when he's out of his head, but he himself does not even know how to - he's just only trying to call for help from others.
For a horndog, creeper, schemer, and a little 20-year-old kid who constantly throws tantrums he is, Josh is quite someone to make it to my number one favorite character slot.
1/ Chris x Josh. This is really weird of me, but I guess they are quite the bromance. By default, Chris would look for Josh if he got left in the shed, despite his bravery gauge then decrease lower than it has been - not to mention this is not his best trait of personality. Chris feels genuinely shocked to know that Josh is missing for certain, and he almost cried when the police informed him about Josh (As shown in Chris sole survivor). Josh, instead, would do anything to help Chris make a move out of the friend zone to Ashley.
2/ Mike x Sam. I guess it's more or less to Max x Furiosa in Mad Max - their relationship grows when perils are met, and they seem to be a very good survival team (they found love in a hopeless place? XD). I mean, Sam has the lowest relationship with Mike, yet their relationship can reach to almost full, not to mention the longest relationship gauge development possible throughout the entire game. If the two survived, I believe that they have acknowledged each other enough to believe in one another's help.
3/ Matt x Ashley. You may find this exotic and out of the story, but trust me when I say that they are actually very good friends. Pay attention to the prologue - they were talking to each other. And at the first intro to Ashley, you can see they are very close friends. And come to think of it, it does seem pretty weird - a jock, and a bookworm. In reality, they are 18 years old. In Firefoxx 's headcanons, she says that both Matt and Ashley are the best cooks of the group - which, with this info, might be very relevant to how they know each other (through cooking class!)
4/ Matt x Jess. Now this one is also one of the actual matchmakers IMO. With Matt being very caring (as we can see in Emily), and Jess who is a person of insecurities that hides behind the mask of a prom queen. It is only natural that their personalities will take them far. While they will never becoming couples, if Matt and Jess are the only survivors, they might develop to each other (my theory, because they should =)))
The Sanatorium! Don't get me wrong, but I feel nostalgic when Mike traverses around it. I usually feel an odd serenity when I traveled around closed ruins and abandoned places (little creepy but nostalgic). Believe it or not, your choice, but I used to wander around a haunted asylum alone! ("Haunted" is just the local urban myth in my hometown. That place just basically got closed in the 90s, and no one was going to buy and renovate it anyways. The place is rotten inside, but that was what I find attractive). And for that reason, I do like the Blackwood old hotel as well. Same thing as the manor in aFFected! (I don't like jump scares, but just looking around the place, they are beautiful)
Hannah's story. If Matt and Emily have a whole DLC just about taking Emily's bags, then we need to know what Hannah did in the mines. She could bury Beth and then dug her up, leave her belongings all over the mines (considering Emily discovers a lot in the mines), what are her trains of thoughts, how the heck she got her diary, and ultimately how she became a Wendigo. There could be a point where she heard a rescue team but fail to give them a sign.
Or at least just let her be playable, please.
It's really practical, but at the same time a bit limited. I would say that's fine, cause the more this effect expands, the more bytes you have to carry on your game console.
I think this game gives me a severe intention of the butterfly effect, as these can affect someone's life in the long run; When you killed someone, their deaths really slap your face constantly. Compare to the Walking Dead, Beyond Two Souls, Heavy Rain, this game is better in terms of the butterfly effect. (It still rivals to Life is Strange, though - Life is Strange consists of a lot more long-term effects, where you can no longer change it back once you realized what you have done - given each chapter have a very long segment to play and some consequences are even two chapter after the choice, I'd say clever work right there).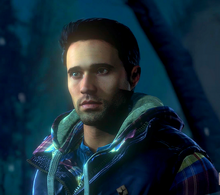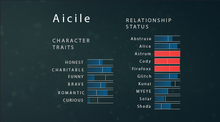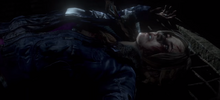 User:Aicilespear/Miscellaneous
"Whatever the mind can conceive and believe, it can achieve."
- Napoleon Hill